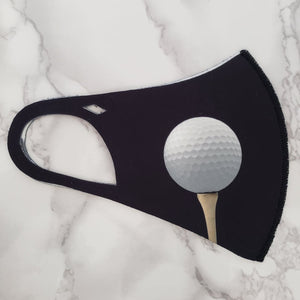 Golf Ball COOLING Moisture Wicking Face Mask
Regular price $24.95 $14.95 Sale
FORE your health, safety and love of the links. 
This BREATHABLE face mask is made from COOLING, anti-microbial fabrics that are comfortable to wear day and night for work, errands and exercise.  Face mask fibers are blended with an Aerocool® to wick away sweat and antimicrobial zirconium-silver compound technology to help inhibit microbial growth.  
Made from the same fabric as Under Armour's cooling, moisture wicking athletic clothing
Breathable even in warm climates
Comfortable for extended, all-day wear
Anti-microbial fabric helps to inhibit microbial growth
Fast drying and moisture wicking
Water resistant to help block droplets  
Reusable and machine washable
Stretchable ear cutouts
UV Protection
SHIPS FROM CHICAGO

WE SHIP ORDERS WITHIN 48 HOURS, HOWEVER, EXPECT DELAYS DUE TO COVID-19 TRANSPORTATION AND SHIPPING DELAYS (on average, USPS has been taking 3-4 days to update tracking information after we drop off orders at the local Post Office). Thank you for your patience!  
Not FDA approved. Wash after each wear. Mask must be properly worn for optimal protection. Wrapperoo® doesn't guarantee nor claim that masks will prevent infection with COVID-19 or other illnesses. To prevent infection with COVID-19 follow the CDC's guidelines. Not for use under age 3. Machine wash cold, air dry or tumble dry low. 92% polyester and 8% polyurethane. For general public use only, not medical grade.