T-Shirt Hair Towel


Transforms Into
Water & Heat


Resistant Cape

The Swiss Army Knife of your Hair and Beauty Routine, Wrapperoo is a t-shirt hair drying towel that doubles as water, heat & spill resistant styling cape. You can gently dry your wet hair with less frizz and breakage plus keep the wash day drips and product mess off your skin and clothes. With Wrapperoo, you're protected from the drips, products, serums, powders and mess of your hair & beauty routine to save yourself time and stress, hassle & mess.

Give it a try…you'll find it has more uses than you can imagine!

As Seen On HSN (Home Shopping Network), ABC's Good Morning America, Entrepreneur magazine, WGN News, MSN, Good Housekeeping magazine and more...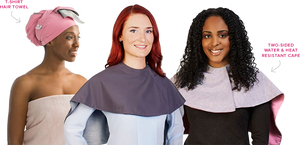 Curly Hair


NEEDS EXTRA
SPECIAL CARE

A traditional towel is too rough for delicate curly hair, it can damage your locks and create frizz. Of course you can just use a t-shirt but why when there's a multipurpose hair & beauty solution that will safely dry your hair AND Protect your clothes and skin from drips, products, serums, powders, and mess?

Learn More